BCV took part in the French conference on Artificial Intelligence in BioMedical Imaging (IABM 2023) yesterday and today at the Institut Curie, Paris.
Our PhD student Mounir Lahlouh presented his work entitled: "Automated Aortic Anatomy Analysis: from Image to Clinical Indicators."
It's the fruit of close collaboration between BCV, the University of Reims Champagne-Ardenne (CReSTIC laboratory), the ESME SUDRIA Paris engineering school and the Adolphe de Rothschild Foundation Hospital.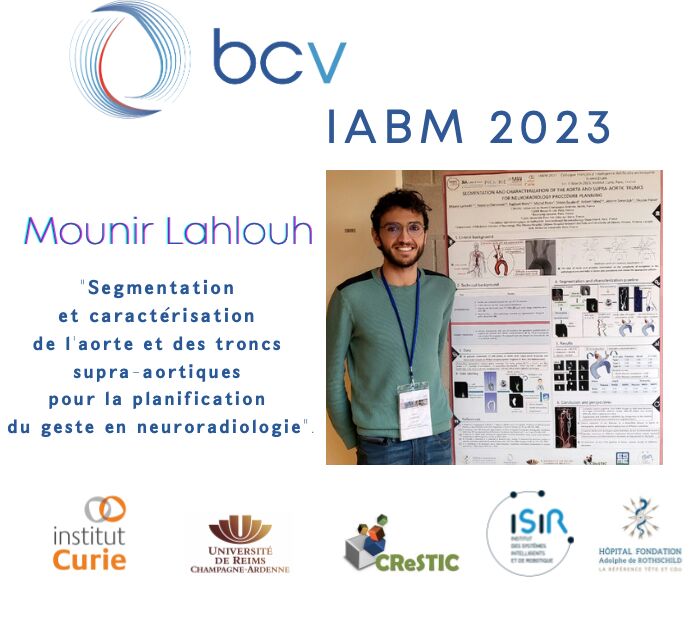 BCV a participé au colloque français d'Intelligence Artificielle en Imagerie BioMédicale (IABM 2023) hier et aujourd'hui à l'Institut Curie, Paris.
Notre thésard Mounir Lahlouh y a présenté son travail intitulé : "𝗦𝗲𝗴𝗺𝗲𝗻𝘁𝗮𝘁𝗶𝗼𝗻 𝗲𝘁 𝗰𝗮𝗿𝗮𝗰𝘁𝗲́𝗿𝗶𝘀𝗮𝘁𝗶𝗼𝗻 𝗱𝗲 𝗹'𝗮𝗼𝗿𝘁𝗲 𝗲𝘁 𝗱𝗲𝘀 𝘁𝗿𝗼𝗻𝗰𝘀 𝘀𝘂𝗽𝗿𝗮-𝗮𝗼𝗿𝘁𝗶𝗾𝘂𝗲𝘀 𝗽𝗼𝘂𝗿 𝗹𝗮 𝗽𝗹𝗮𝗻𝗶𝗳𝗶𝗰𝗮𝘁𝗶𝗼𝗻 𝗱𝘂 𝗴𝗲𝘀𝘁𝗲 𝗲𝗻 𝗻𝗲𝘂𝗿𝗼𝗿𝗮𝗱𝗶𝗼𝗹𝗼𝗴𝗶𝗲 ".